is assistant professor and programme director of the MSC in communication & media at the school of information & communication studies at UCD. She has published on ethics in interactive design and is an advocate for human-centred computing to support wellbeing. She is a collaborator with the SFI adapt research centre for digital content research in Ireland and a supervisor in the SFI centres for research training in digitally enhanced reality and machine learning.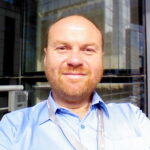 works for ECHAlliance as the director for ecosystems and membership and has developed and built a large network of over 55 global digital health ecosystems and membership community of over 750 organisations. He has had a long career in both funding, health and social care going back over 30 years starting in the mental health field working with mentally disordered offenders, homeless young people and then later in the field of dementia and robotics.
is an associate professor at the Hussman school of journalism and media at the University of North Carolina at Chapel Hill. In more than 20 years leading digital innovation in some of the United States' top newsrooms and training future leaders in the field, his focus has been on building teams that bring diverse skills to a common goal of strengthening journalism's role in democracy. The author of a textbook on digital journalism, he has taught hundreds of students on five continents everything from data reporting to entrepreneurial product development. The professor is an external member of the scientific board in the Reinitialise project.
is President and chief operating officer in Netrix ventures. He has implemented 6 R&D projects with budgets of over 5 m EUR as well as innovation consulting services in total amount of 10 m EUR. He has also participated in more than 200 successful grant's proposals, including H2020, POIR, POIG programmes. He has built the Netrix corporation which growth from 20 to more than 130 employees and became the leading ICT and consulting provider in Poland. Łukasz Gołąbek is a member of the innovation board in the Reinitialise project.
is a chairman of the board of Towarzystwo Wolnej Wszechnicy Polskiej, Lublin branch. She has a vast experience in seniors supporting and engagement. She is a coordinator of Lublin centre for senior's engagement since 2009. She is also an active member of age platform in Brussels and in its framework she has been taking part in numerous international projects supporting seniors and also member of regional board for senioral politics in Lublin. Elżbieta Iwanicka is a member of the innovation board in the Reinitialise project.
is head of the department of economy and entrepreneurship support in the marshal's office of the Lubelskie Voidvodeship. Experienced in the implementation of activities aimed at developing, implementing, monitoring, evaluating and updating the regional innovation strategy. Experienced in cooperation with entrepreneurs and implementation of activities related to economic promotion and entrepreneurship development in the Voivodeship.
is a management board member of Lublin medicine cluster and head of the business ecosystems and business infrastructure office of the city of Lublin. She has expertise in project risk assessment, support for entrepreneurship and innovation development. Member of working group for national smart specialisation - healthy society at the ministry of economic development, labour and technology. She is a member of the innovation board in the Reinitialise project.